Dental implants are the greatest dental restoration technique for tooth missing. As dental implants are designed to last a lifetime and function like natural teeth, they avoid the negative aspects of porcelain bridges or dentures. 
In this blog, we will conclude an answer for Is Single-tooth Implant Best For A Now Missing Tooth? by answering the followings: 
What is a dental implant? 
Who needs a single-tooth implant? 
How many steps will a patient go through?  
What equipment does the single-tooth implant require?
1.What is a dental implant?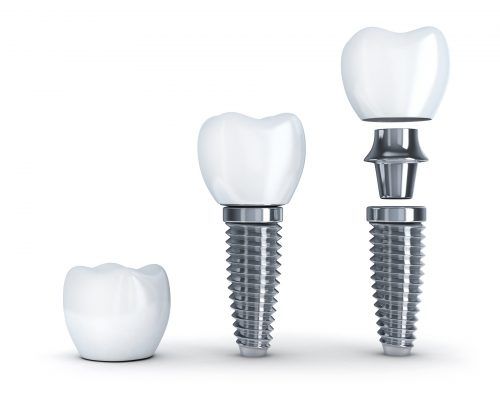 An Implant is comprised of a corrosion-resistant Titanium screw embedded in the jawbone and an abutment that sits along the gumline and supports the crown on top of it. On the other hand, a porcelain crown can look the same as an implant on the outside but they are not permanent due to the lack of compatibility. The difference lies in the Titanium screw that helps grow bone tissues, thus, acts as a new root for the crown. 
2.Who needs a single-tooth implant? 
This technique is best suitable for those who have a single missing tooth or a few widely spaced missing teeth. There are many advantages of an implant: 
No adjacent teeth needed to be prepared or ground down to hold your new replacement tooth/teeth in place like bridges.

The titanium posts are placed permanently in the jawbone-an advantage of implants over dentures. 

Dental implants function like your own teeth; safely and comfortably. 

Dental implants improve speech and give you back your smile.

They can last a lifetime when done with high-quality materials combined with expert training. 
3.     How many steps will a patient go through?  
      Patients will undergo 8 steps followed by 3-4 visits. 
Performing a medical check-up and taking 3D CT images; 

Performing teeth cleaning and delivering local anesthetics;

Making incisions in the gum to place implants in the jawbone; 

Waiting 4-6 months while the bone grows around the dental implants; 

Placing the abutment above the implant; 

Taking dental implant impressions for crown fabrication; 

Screwing the crown into the abutment;

Regular check-ups after dental. 
4.     What equipment does the single-tooth implant require? 
In order to determine whether an implant surgery is suitable or not, it is a must that patient's bone tissues are clearly shown via three dimensional images. So, it does ask for standardized machinery and equipment to bring about successful outcomes. 
Trusting Navii Dental Care, patients are provided with a full-packaged treatment with reasonable prices from 850-1500 USD per tooth, including 3D images, an 3-part implant and post-surgery checkups. Especially, Navii Dental Care guarantees to deliver ultimately precise X-ray images with the comprehensive 3-in-1 Orthophos XG 3D, a state-of-the-art piece of equipment produced by Sirona, Germany. Designed with cutting-edge technology, the machine produces clear images with a radiation level 20 to 30 times less than that of a typical x-ray machine, reducing patients' exposure to x-ray radiation. Superior to traditional x-ray machines, the Orthophos XG 3D x-ray unit produces crystal clear both 2D and 3D images, providing detailed three-dimensional information for our dentists to accurately analyze the bone structure, bone density, tissues, and nerves of patients. Combined with particular analysis software, this unit facilitates easier, safer, and more accurate diagnoses and treatments, especially in specialized dental services such as orthodontics and Implants.
Navii Dental Care sets top priority to delivering internationally standardized services to patients right in the heart of the capital Hanoi. We are confident to have the most professional operations as well as human resources specialized in dental treatments and restorations. 
Summary: 
In summary, the single-tooth implant advantages over porcelain crown or porcelain bridges. Tooth implants patients are never let down by the benefits and aesthetics effects of this technique.