Introduction:
Dental Tourism in Vietnam is flourishing exponentially thanks to a well combination of tourism and dentistry. In order to take care of dental tourists from all around the world, Navii Dental Care has focused on studying the requirements and expectations of our clients. As a surprise, Vietnamese cuisine is not only attractive to travelers, but also to dental tourists! 
Indeed, Vietnamese dishes have made their way to the world cuisine and mesmerized eaters from different continents. That said, one of the best ways for dental tourists to experience Vietnamese culture is through our food culture! 
So, this blog will guide tourists through our food map by naming 15 Best Vietnamese Restaurants in 3 famous cities that respectively represent the identity of the North, the Middle and the South – 3 main parts of this S-shaped country: 
Morning Glory Restaurant

 

Ms. Ly Cafe

  

Aubergine49 Restaurant

  

Nu Eatery

 

Mango Mango Restaurant

 

Quan An Ngon

 

Lemongrass Restaurant Saigon

 

Nha Hang Ngon

 

4Ps Pizza Saigon

 

Li Bai Chinese Restaurant

 

Bun Cha Huong Lien

 

Cha Ca Thang Long

 

Banh Cuon Gia Truyen Thanh Van

 

Pho Gia Truyen

  

Sen Buffet  
Hoi An
Genuinely, Hoi An has a cuisine that is unparalleled. Tourists may be either devouring a fully stuffed Banh Mi at a vendor, or relishing elegant royal-styled platters in a classy restaurant.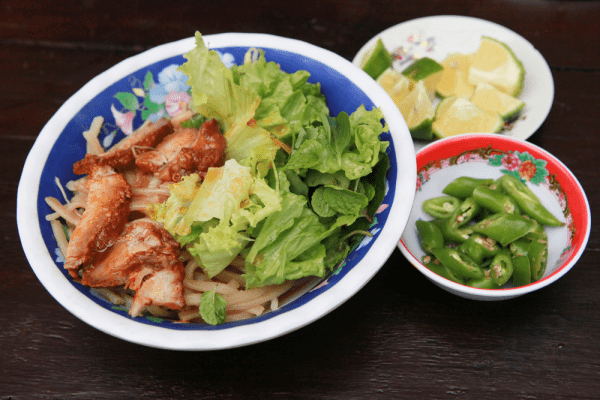 1. Morning Glory Restaurant – 106 Nguyen Thai Hoc Street 
Morning Glory Restaurant serves an array of Central Vietnamese street food and traditional dishes in a stylish setting. The restaurant occupies a refurbished colonial building along Nguyen Thai Hoc Street, featuring an open kitchen downstairs and a breezy terrace that overlooks Hoi An Ancient Town. Highly recommended Hoi An dishes include the seafood mi quang noodles, claypot fish in caramel sauce, and pork-stuffed squid. Morning Glory is also a good dining option for vegetarians – try the stir-fried baby celery and beansprouts, vegetable curry soup, and crunchy tofu coated in young sticky rice. 
      2. Ms Ly Cafe – 22 Nguyen Hue Street 
Miss Ly Café is a legendary dining spot in Hoi An, having been in operation for more than 20 years. Surrounded by colonial-era shop-houses, this charming family-run restaurant is fitted with warm lighting, wooden furnishing, ceiling fans, and vintage paintings while traditional music plays in the background. Its reasonably-priced menu comprises authentic Hoi An dishes such as cao lau (thick rice noodles with barbecued pork, greens and croutons), banh bao vac (white rose dumplings), and thit nuong (grilled pork). Located in Hoi An Ancient Town, Miss Ly Café is just around the corner of the Fujian Assembly Hall. 
      3. Aubergine49 Restaurant – 49A, Ly Thai To Street
Aubergine49 Restaurant features an extensive menu of contemporary Eurasian cuisine, exquisite wines, and homemade desserts. The kitchen of this fine-dining venue is headed by Vietnamese chef Nguyen Nhu Thinh, who has worked in The Lanesborough Hotel, Padstow's The Seafood Restaurant, and Nihonryori Ryugin, a three-Michelin-starred restaurant in Tokyo. Priced at VND 135,000 onwards, Aubergine49 Restaurant's a la carte options include pistachio-crusted goat cheese, duck liver parfait, miso-glazed seabass, roasted rack of lamb, and stuffed squid. For dessert, we highly recommend the dark chocolate delice (VND 120,000) and banoffee pie with brandy snap and Dalat yogurt sorbet (VND 100,000).
      4. Nu Eatery – 10A Nguyen Thi Minh Khai Street 
Nu Eatery serves a selection of local and international favourites, fresh smoothies, imported wines, as well as uniquely flavoured ice cream. Located near the iconic Japanese Covered Bridge, this cosy two-storey restaurant features quaint décor, colonial-era floor tiling, wooden furnishings, and an open-air terrace that overlooks Hoi An Ancient Town's pedestrian-friendly streets. Nu Eatery's food menu features Vietnamese spring rolls, pork belly steamed buns, banh mi served with brioche buns, grilled pineapple, coconut and pomelo salad, and pumpkin with coconut milk soup. Lastly, satisfy your sweet tooth with a scoop of pomelo, lemongrass or chilli ice cream
      5. Mango Mango Restaurant – 49 Nguyen Phuc Chu Street 
Mango Mango Restaurant is a colourful eatery that's set along the tranquil Hoi An Riverside, offering contemporary Vietnamese delicacies and a wide range of signature cocktails. A popular spot for dinner after a day of exploring Hoi An, the spacious upstairs terrace overlooks the iconic Japanese Covered Bridge, Thu Bon River, and Hoi An Night Market. Mango Mango Restaurant offers a diverse a la carte menu, with appetisers starting at USD5 and mains for USD16 onwards. You can also opt for a four-course tasting menu which comes with a glass of sparkling wine for USD38. Standout dishes include the duck breast in five Asian spices, tiger prawns with fruity and spicy sauce, and papaya salad. 
Ho Chi Minh City 
The city has embraced Chinese and French cultures while maintaining its local delicacies to give birth to an exotic but lovely cuisine, just like its people.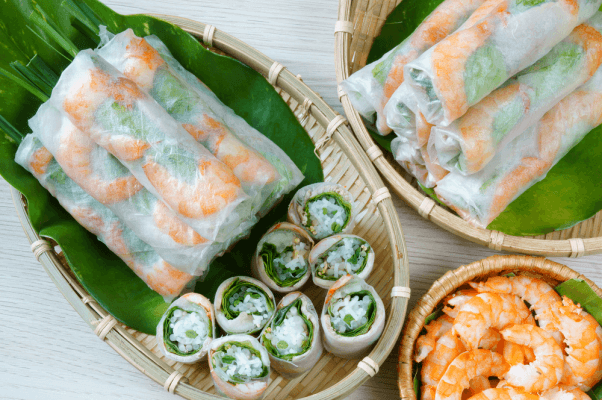 1. Quan An Ngon – 138 Nam Ky Khoi Nghia Street, District 1
Located opposite the Reunification Palace on Nam Kỳ Khởi Nghĩa Street, Quan An Ngon Restaurant is centrally located in District 1. Visitors are often delighted with the classically styled interior. If you are looking to try many casual Vietnamese dishes – spring rolls, black pepper crab, noodle soup – in a clean and friendly environment then this is an excellent option. The menu is clearly laid out with tourists in mind as everything has English and Vietnamese descriptions and most have an accompanying picture. Prices are extremely reasonable with main dishes starting from 50,000 VND ($2.50 US). All regional specialities are on offer at Quan An Ngon Restaurant meaning you can eat your way around the country in one sitting. From Goi Cuon of the South to Banh Uot of the Middle. 
      2. Lemongrass Restaurant Saigon – 4 Nguyen Thiep Street, Dist. 1
Lemongrass Restaurant Saigon has been serving both locals and tourists since 1996, making it one of the oldest dining venues in Ho Chi Minh City. This restaurant offers authentic Vietnamese cuisine at surprisingly affordable prices. Occupying a three-storey French colonial building, the interior is set up like a French brasserie-style restaurant. Food-wise, Lemongrass Restaurant Saigon's signature dishes include baked prawns with garlic butter and almond (VND 189,000), grilled pork ribs with lemongrass (VND 159,000), and lemongrass -steamed clams (VND 119,000). For dessert, its homemade ice-cream (VND 79,000) and mixed tropical fruit platter (VND 89,000) come highly recommended.
      3. 
Nha Hang Ngon – 160 Pasteur Street, District 1
Nha Hang Ngon restaurant is a delight, skilfully combining a comprehensive menu of classic Vietnamese dishes, English speaking waiters and beautiful surroundings. It is only 10 minutes walk from the Ho Chi Minh Opera House, along Le Loi and right at the Pasteur Street intersection. The menu is full of all the staples of Vietnamese cooking, popular dishes include fresh spring rolls, minced prawn on bamboo and an array of noodle soups. A meal at Nha Hang Ngon is accompanied by a platter of vegetables, herbs, fruits and leaves of varying texture and taste, as is the norm with authentic Vietnamese dining. Noticeably, recipes at Nha Hang Ngon in Ho Chi Minh are geared towards the tourist palate, although there are still a minority of Vietnamese enjoying a meal here. 
      4. 4Ps Pizza Saigon – 8/15 Le Thanh Ton Street, District 1 
This Japanese owned and operated pizza and pasta restaurant serves some of the best pizzas east of Napoli. 4Ps Pizza Saigon is an institution with Ho Chi Minh's expat community serving stone-baked pizzas with inventive toppings that run from flower petals to teriyaki chicken. Despite the hard to find location down an alleyway behind The Sushi Bar on Le Thanh Ton Street, it gets packed on weekends and reservations are highly recommended. 
      5. Li Bai Chinese Restaurant – 88 Dong Khoi Street, District 1
Widely hailed as being the top Chinese restaurant in Ho Chi Minh City, Li Bai is an elegant eatery in the Sheraton Saigon Hotel and Towers. Meals come in the form of all you can eat dim sum, or a la carte menus with menu items embodying the finest ingredients. A frequently award-winning restaurant too, Li Bai is a great spot for a splash-out meal. The Sunday night buffet is also popular with locals and visitors alike. Prices of the restaurant can range from 4.5 USD to 87 USD.
Hanoi
As the capital, Hanoi is known as the cultural and political center where locals and indigenous values across the country meet and interfuse. Here, the richest part of the Vietnamese cuisine is nurtured where Pho, Bun Cha or Banh Cuon – the world famous Vietnamese dishes originated. And guess what, these following restaurants are just a few minutes ride from Navii Dental Care!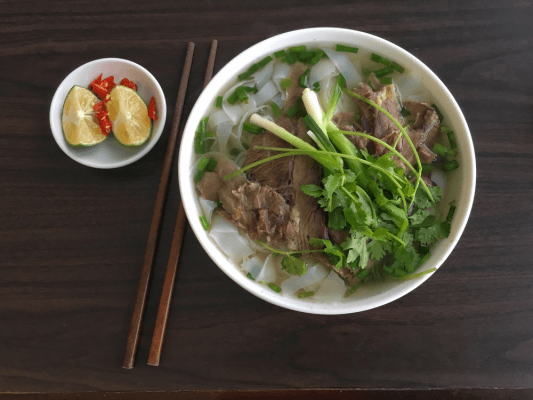 1. 
Bun Cha Huong Lien – 24 Le Van Huu Street, Hoan Kiem District 
As a must-try dish, a restaurant that serves the finest Bun Cha has to be present in this list. This restaurant is already popular and gained worldwide acclaim thanks to the visit of President Obama and Chef Anthony Bourdain in 2016. Although the walls are now covered with Obama's pictures, the cuisine remains the same – local, authentic and delicious. The pork balls are slightly fatty, incredibly juicy and tasty. Fresh herbs, noodles dipped into the special sauce, makes for an incredible harmony of flavors. Bun Cha is a definite feast of flavors in just one bite! Not done yet, eaters only have to pay maximum 2.16 USD for a dish of bun cha!   
      2. Cha Ca Thang Long – 19-21-31 Duong Thanh Street, Hoan Kiem District 
Cha ca is one of the unique specialties of the Hanoians, which even has a street named after. The key ingredients in cha ca is grilled fish, typically mudfish or snake-head fish. According to the restaurant, the best fish to use is Hemibragus, because it has fewer bones and tasty flesh. Each bite of the buttery grilled fish, perfectly seasoned with turmeric and noodles soaked in fish sauce, combined with the fresh herbs, is a delicious explosion of flavors. This must-eat dish will win any food-lover's appetite that even a fussy eater won't be able to fight against. A traditional course (without beverages) only costs 6 USD. 
      3. Banh Cuon Gia Truyen Thanh Van – 12 Hang Ga Street, Hoan Kiem District 
Banh cuon is another local specialty from Northern Vietnam, which is made of a thin rice sheet rolled and filled with ground pork meat and minced mushrooms. It is served with fried shallots and cilantro herbs on top.The secret flavor of this food resides in its dipping sauce made of Nuoc Mam (fish sauce), sugar, vinegar and pepper. The magic comes with the additional drop of cà cuống, the essence of a giant water bug common in Southeast Asia. The rice sheet is made by steaming fermented rice batter on a cloth stretched over a pot of boiling water, where the maker tactfully makes the thinnest layer of banh cuon. Not to mention, the cooking process already tempts eaters to stop by! As a favorable breakfast treat, prices in this eatery are 2 USD and below. 
      4. Pho Gia Truyen – 49 Bat Dan Street, Hoan Kiem District       
Pho is a classic when it comes to Hanoi cuisine and is voted one of the best foods Hanoi offers. Let's say that the essence of Pho lies in the aromatic soup, which is well-made stock combined with an esoteric spice mix that primarily uses anise and cinnamon, with touches of cardamom, fennel, and cloves. Roasted onions and sliced ginger add a final, herbal coat to the soup. Perfectly cooked slices of beef, or springy meatballs are flattered by freshly-made flat rice-flour strands. Finally, the fresh vegetable garnishes complete the ensemble, usually composed of Thai basil, green onions, cilantro, and bean sprouts – a true tip for foreigners. With all that said, eaters will go through all three flavors: sweet, sour and spicy in just one slurp. Pho is cheaply available everywhere in Hanoi, yet the best place to eat Pho is Pho Gia Truyen. So, be sure to go early, as there is usually a long queue! 
      5. Sen Buffet – 60 Ly Thai To Street, Hoan Kiem District  
Sen Hanoi at 60 Ly Thai To stands out amongst most restaurants in Hanoi for serving extensive buffet-style dinners in a sophisticated setting. Featuring an elegant black-and-white theme, it's fitted with neo-colonial décor, chandeliers, wooden furnishing, a massive buffet area set up in the centre, and spacious seating arrangements. Buffet dinners are priced at 210,000 VND (not inclusive of drinks), where diners are presented with plenty of Asian and European delicacies to choose from, including over 60 traditional dishes from three regions in Vietnam. The restaurant can get very bustling during peak dinner hours, yet the service here is still seamless thanks to its professional and English-speaking personnel. This restaurant's menu is perfectly good value for money that will impress everyone – even people who don't usually like buffets! 
Conclusion:
We have concluded 15 best restaurants and eateries for dental tourists from reputable culinary forums, magazines, as well as food bloggers. These are our earnest recommendations that are hoped to help dental tourists make the most of their experience. Also, luckily, Navii Dental Care is located in Hoan Kiem District – hotspot of the national cuisine. So, are you ready to go on a dental tour with us?