Vietnam is a South-East Asian country whose tourism plays a crucial role in promoting the national economy. Vietnam has a long rich history influenced by Chinese and French cultures due to years of invasion; yet its unique cultural traditions are still remained by Vietnamese people who are kind-hearted, resourceful and diligent. 
As a developing country whose landscapes and sceneries are breath-taking, Vietnam has been highly attractive to foreigners, especially the Europeans, Americans and Australians, who are fascinated by the tropical beauty. After the first half of 2019, Vietnam already recorded a booming number of 7.3 million international visitors, and is expecting to attract 18 million foreigners this year, according to the General Statistics Office. Interestingly, the development of Vietnam Dental Tourism has added significantly to this record and Navii Dental Care is proud of being one of the first dental offices to operate dental tourism in Vietnam. 
If you are a dental-tourist-to-be and getting lost in Vietnam Travel Map, just scroll down to travel with us through 5 Most Popular Tourist Attractions In Vietnam:
Ha Long Bay 

Hoan Kiem Lake

Complex of Hue Monuments 

Phong Nha – Ke Bang National Park 

Cu Chi Tunnels 
1.
Ha Long Bay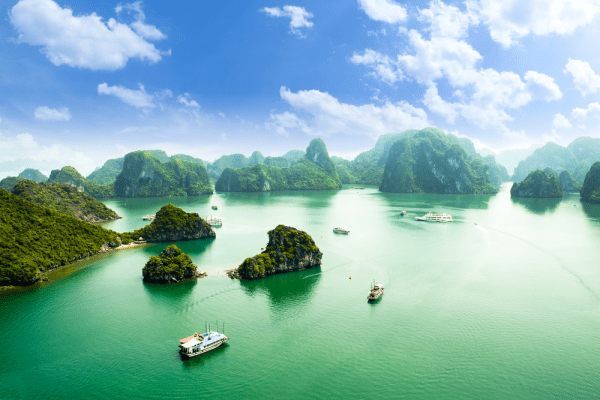 Unsurprisingly Ha Long Bay is the first location to be named in this list. Not only is the destination one of the 7 World Wonders, but it is also present in many top lists of the world tourism, which records an annual increase of 17% regarding foreign tourists. What have brought Halong Bay to the world are its spectacular natural geology and its affable people. Tourists will immense in karst outcroppings made of over 300 limestone mountains protruding from the jade water surface. Paddle-sport lovers will be satisfied with a wide range of means of travelling, from junks (Vietnamese wooden boats), kayak, row boat to luxurious cruise boats. Leaving the nature, tourists will get to experience the life of a fisherman when self-catching some treats, making fishing nets with the locals and so on.  At the end of the day, everyone will gather and relish the "rewards" at the dinner table with the most sumptuous seafood in the world. There are many full-packaged tours to choose from. A 2-day cruise from Hanoi is around 220 USD per adult that includes almost everything. 
2. 
Hoan Kiem Lake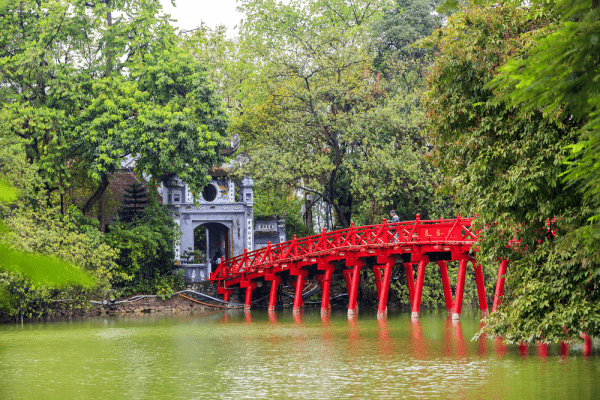 Hoan Kiem Lake (Sword Lake), can be a reflection of the soul of the capital Hanoi, which is an elegant combination of modernity and history. What makes Sword Lake special is not only the extraordinary turtle tower standing in the middle of the jade lake, but it is also because tourists can observe the pace of living of the Hanoians while unwinding on a bench on the edge. There is a legend attached to the lake involving an eminent emperor and a legendary animal in Vietnamese's spiritual life – the turtle. Hoan Kiem Lake shows the reflection of The Huc Bridge connected with Ngoc Son Temple, where the educated visit every important exam. The lake is encompassed by 36 trading streets that once formed the most prosperous trading region in Vietnam's history. Today, Hoan Kiem District is still the nation's economic center and Hoan Kiem Lake welcomes millions of tourists from many parts of the world every year. Apart from visiting  the tourist attractions around the lake, people come to the Hoan Kiem for one of the world's best cuisines, for the lively nightlife and for the peace of the soul. Tourists can easily blend in a local's life at Hoan Kiem District where specialities and products of the whole country all gather to be represented to the world. Lastly, Sword Lake is open to the public and the entrance fee for Ngoc Son Temple is just 1.3 USD. 
3.

Complex of Hue Monuments 
If you are a history buff, Hue – Vietnam's former Royal Capital is absolutely meant for you. Under the dominance of Nguyen Dynasty, Hue was the political, cultural and religious center of Vietnam, which is the main reason why Hue has been recognized as a World Heritage Site by UNESCO. The Capital City is comprised of 4 citadels: Hoang Thanh (Imperial City) for royal and shrines, Tu Cam Thanh (Forbidden Purple City) for royal residences, Dai Noi (Inner City) and Tran Binh Dai. Moreover, there are a number of tombs of emperors (which can be colossal unbreakable constructions) scattering along the Perfume River; alongside with various pagodas, namely Thien Mu Pagoda that was featured in songs of poems, and, in many Vietnamese people's mind. Not only that, Hue attracts hundred thousand of tourists every year thanks to unique dishes that were primarily made for the aristocrats. Tourists are expected to purchase a maximum ticket price of $15.5 and at least a day to visit up to 4 sites of the complex.
4.

Phong Nha – Ke Bang National Park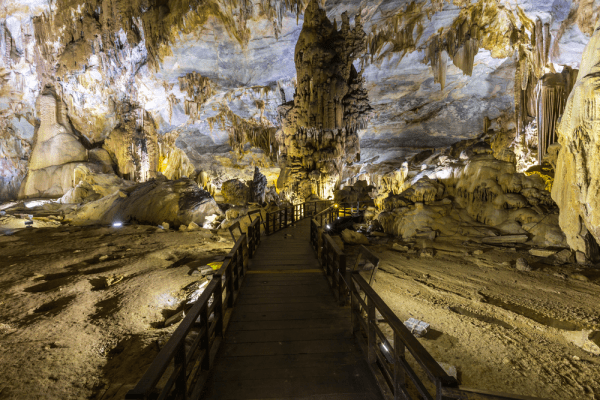 Quang Binh is one the most resource-rich provinces in Vietnam. If Son Doong Cave-the world largest natural cave is a huge investment, then Phong Nha-Ke Bang National Park is open to anyone who fancies karst mountains, underground rivers, extensive caves and unspoiled jungle or historical sites. The whole cave system is about 126 km in length consisting 300 caves and grottos that give visitors mind-blowing scenes throughout the journey. As of an extraordinary combination between water cave and forest, tourists are provided with a wide range of activities such as biking on Bong Lai Valley, ziplining to Dark Cave, hiking the jungle above or visiting Eight Lady Cave-the hideout of 8 pioneer soldiers bombarded by the US army and so on. Investing just about $6.5 – $10.7, tourists will be experiencing an excellent World Heritage Site, as well as a must-visit national park in Asia. Last but not least, the porridge soup and filter cake – Quang Binh's specialities can mesmerize any eaters, even a connoisseur! 
5.

Cu Chi Tunnels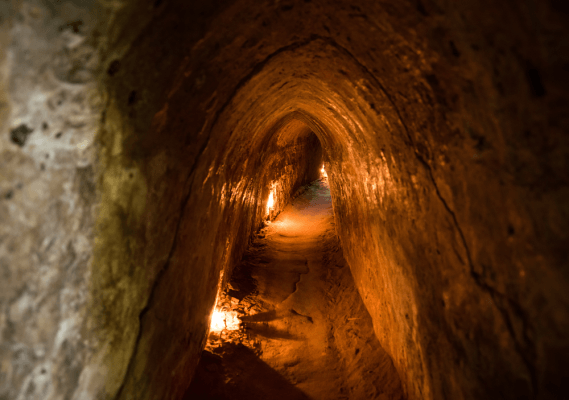 Cu Chi Tunnels are a network of connecting tunnels located in Cu Chi District of Ho Chi Minh City. They formed a hiding spot for soldiers during combat (especially the war between Vietnam and America), which served as communication and supply routes, hospitals, food and weapon caches. The 75-mile long complex of tunnels at Cu Chi has been turned into a war memorial park and a tourist attraction with two different display sites, Den Dinh and Ben Duoc. Tourists will be climbing inside the safer parts of the tunnel system, bending while walking through dark areas, observing booby trap displays, etc. Not only that, tourists will be excited to enjoy boiled cassava (going with roasted tofu salt) that was the main dish of the Vietnamese during many years of war or to  fire a number of assault rifles and light machine gun at a shooting range above the ground. Ticket prices are flexible, ranging from $6 to $15 depending on the services chosen. However, Ben Duoc should be cheaper and therefore better suit travelers on a tight budget. 
Conclusion: 
Vietnam will not disappoint any dental tourists, for the fact that not only is Vietnamese dentistry as developed as any top-notchers in the sector, but Vietnam Tourism is flourishing at a fast pace and not intended to slow down. Navii Dental Care is ready to be your partner as we are the biggest dental office lying in the heart of the capital Hanoi. Trusting Navii, you will be treated with professionalism regarding both dental services and travel plan thanks to our 20 years of operations, as well as our reputable joint partners and ventures.