Among top countries for dental tourism in Asia, Vietnam has been seen as a worth-visited location. The most common dental services favored by dental tourists are: crowns, teeth whitening, implants and all-on-4 implant. Recently, Navii Dental Care has treated many dental tourists with all-on-4 implant due to its financial benefits that can save them by 70% more or less. 
With over 20 years of formation and development, Navii Dental Care has become a familiar address where both native and foreign patients visit whenever they need the high-quality dental care. Having earned trust and satisfaction from 95% of our clients, Navii Dental Care is among the very first clinics in Hanoi to promote dental tourism Vietnam, specifically dental implant tourism. 
Therefore, this blog is going to explain what All-on-4 implant: all-in-1 dental vacation actually means: 
Why get dental tourism in Vietnam? 
How reliable is all-on-4 dental tourism?
What clinic to get all-on-4 dental tourism?
1.Why get dental tourism Vietnam?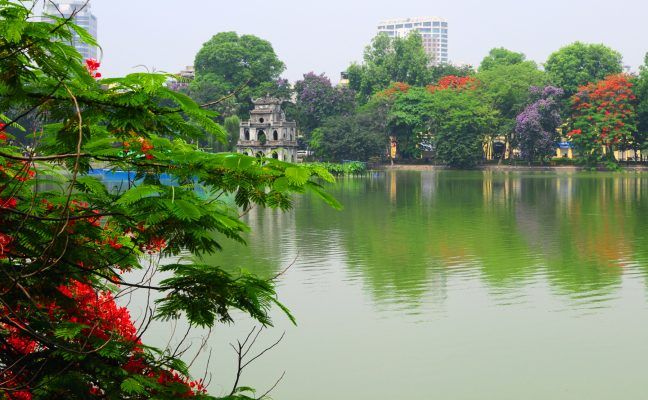 1.1. Low cost of living 
Dental tourism is growing in Asian countries owing to their rich culture, high safety, yet low cost of living. These countries usually house internationally standardized dental centers in the capital and big cities. According to the Authority Dental (2018), "a person can save up to 70% by getting dental work in another country, and that includes travel, lodging, and the actual treatment." Vietnam is renowned for amazing natural beauty, cultural diversity and is among one of the lowest costs provided concerning dental care. 
1.2. No language barrier
Unsurprisingly, Vietnam is among the easiest countries for English speakers to visit, because as many as 53.81% of the population can speak the international language. English is a compulsory subject taught at least in 3 educational levels. Therefore, English speakers are highly welcomed and they quickly blend in with native community. In fact, the majority of the 53.81% refer to metropolitans and city-dwellers, where the service sector plays a crucial role. Most reputable dental offices also lie in these big cities, which are not only easy to find, but they give tourists exposure to English language. Interestingly, both clinics of Navii Dental Care are English-speaking spaces placed in the center of the capital. Therefore, tourists will find no difficulties communicating with our personnel, and with locals or salesmen. 
1.3. Intriguing offers
As a leading dental center in Hoan Kiem District, Navii Dental Care provides a wide range of services and comprehensive dental tours, with various interesting offers that you don't want to miss. So far, we have operated 4 inclusive packages, specifically Veneer, Porcelain Crowns, Implant and All-on-4 Implant packages. Tourists can tailor their vacations with no difficulties based on our suggestions. 
We have gained partnership with 18 reputable hotels and hostels across Hanoi, many of which are just a few minutes ride from our clinics and the best tourist attractions such as Hanoi Old Quarter, Ho Chi Minh Mausoleum, The Big Cathedral, Thang Long Imperial Citadel, etc. Not only that, our clinics are located in Hoan Kiem and Hai Ba Trung Districts, which are the capital's food and trading hubs. Therefore, once left our offices, dental tourists can immediately start shopping at bookstores, clothing stores, souvenir shops, malls (do not "shop till you drop" though!), and filling the stomach with the world famous Vietnamese foods like Pho, Banh Mi, Bun Cha, Nem; or Vietnamese savory street foods.
2. How reliable is all-on-4 dental tourism?
All-on-4/ All-On-6 implant is the finest dental treatment for teeth missing with permanent durability. This is one of the latest technicalities of the world dentistry, which ensures both functional and aesthetic aspects for patients throughout the treatment. Therefore, it requires a lot of expertise from the practitioner, as well as advanced dental facilities and equipment. These criteria can be met in dental centers of international standards, one of which is Navii Dental Care located in the heart of the capital. In Hanoi, there are only a handful of Implant specialists qualified enough to perform this treatment. Apart from in-depth expertise in this major, these doctors are usually required to have over 10 years of experience, with many credentials and positive reviews from patients. Not only that, all-on-4 implant professionals must master the sedation process by completing a sedation program before any practices. 
Honorably, Navii Dental Care has collaborated with Dr. Le Thi Thai Hoa, a leading expert on Implant Dentistry in Vietnam, since our early years of formation. Despite her excellent performances and achievements, she never stops improve her skills. Recently, Dr. Hoa has successfully completed an all-on-4 surgery in 1.5 hours, two times faster than the standard duration. 
3.What clinic to get all-on-4 dental tourism?
Dental tourism 2019 is a competitive market where there are more reputable clinics promoting Vietnam dental vacation. In order to offer a well-put and inclusive dental tourism package, a reputable dental office often collaborates with professional travel agents and often give patients discount offers and other benefits. With such packages, patients are ensured not to have any worries, even the departure procedures at the airport. 
As the biggest dental clinic lying in the heart of Hanoi, Navii Dental Care has much experience to operate dental tourism in a professional manner. For the last 5 years, Navii Dental Care has succeeded in dental tourism and welcomed growing number of bookings, namely the all-on-4 dental tourism package. Australians and Americans are our most potential clients, who trusted Navii Dental Care and even recommended us to relatives and friends. 
We are fully confident in our professionalism and constant improvement to be the most reputable partner of your dental holiday. Both of our clinics are located in the heart of Hanoi, where clients will be welcomed by enthusiastic staff and treated by a team of skilled professionals. We also own with the latest dental facilities and equipment imported from leading manufacturers in Germany and the USA such as: Zoom WhiteSpeed teeth whitening; X-ray machine and dental implant sterilizer that are crucial to the success of an all-on-4 implant treatment; and many more. It is our mission to help tourists facilitate their treatment plan while making the most of their travels. 
Summary:
Overall, all-on-4 dental tourism at Navii Dental Care can provide you with all the benefits in one dental vacation, which are: low costs and prices, the highest quality of all-on-4 implant, and well-put travels. All-on-4 dental tourism will be much less of a lengthy surgery, but rather a risk-free and mild treatment that gives patients a healthy beautiful smile of a lifetime. So, if you need to restore or touch up your smile with dental implants, but have no idea where to start, drop us a few lines or call us right now to receive the most honest consultations!