50 shades of white improved, or dazzling teeth after having teeth whitened at the dentist? They sound too much to be true. But 5 or even 8 shades whiter? Teeth whitening service in Hanoi can do that in less than 2 hours! 
Like the name itself, teeth whitening can whiten or lighten your teeth by at least 2 shades. Its effect can last from 6 months to 2 years, depending on the patient's natural tooth color, dental health, oral hygiene habits, etc. There are various products and methods to improve tooth color, but Zoom Whitespeed whitener is the key to desirable white teeth. As the biggest dental clinic in Hanoi, Navii Dental Care provides the best teeth whitening service as we possess the Zoom Whitespeed teeth whitening (model Zoom advance) imported from Phillips, USA. 
So today's blog is going to give an answer to Teeth whitening in Hanoi: dazzling teeth? 50 shades whiter?: 
What is teeth whitening with Zoom?
Why teeth whitening in Hanoi?
Where to get teeth whitening in Hanoi?
1. What is teeth whitening with Zoom?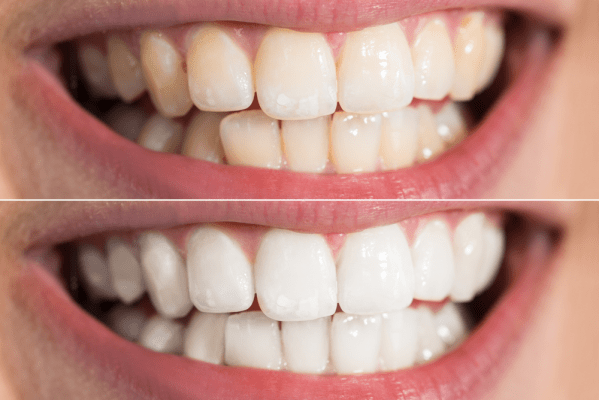 There are various methods to improve tooth discoloration such as scaling and polishing, rising, or brushing using toothpaste or bleachers, etc. But the ultimate method is taking a teeth whitening section that gives a desiring effect fast and easily. So far, Zoom Whitespeed Teeth Whitening is the most advanced machine to perform this technique. 
Unlike other dental services, teeth whitening can be done in 2 ways: At-home and in-office. They are pretty opposite as they sound. The at-home method shows the effect slowly and has a low price tag, whereas the in-office method is finished within 2 hours or less and its price usually doubles the other type. At-home whitening methods include: over the counter strips and gels, whitening rinses, whitening toothpastes and tray-based teeth whiteners. These products should be used for mild cases of tooth staining. In-office method, in return, will be suitable for more serious tooth discoloration that is done in 4 steps: 1) performing an oral cleaning; 2) Isolating the teeth; 3) Applying the whitener and activating it with laser; 4) Applying fluoride gel, cleaning the mouth, and completing the procedure. 
2. Why teeth whitening in Hanoi?
As the capital of Vietnam, Hanoi takes the lead in adopting advances in almost all fields: technology, education, tourism, medication, medical industry, etc. Therefore, dentistry is no exception that dental care in Hanoi is quite reliable, conforming to international standards. There are many dental clinics Hanoi offering top-tier services with the support of cutting-edged dental machines and instruments. With that being said, the qualification and skill of professionals are the key to success of Hanoi dentistry. Clients and patients can easily get access to the profile of dentists published on the clinic's official website and check the reliability of his/her qualification accordingly. Especially, most dentists in Hanoi work at the National Hospital of Odonto-Stomatology, many of whom operate a private clinic and work in both places. They are leading experts and specialists in Vietnam dentistry whose performances are highly successful, meeting patient's satisfaction. Furthermore, all branches of dentistry are available in Hanoi, so that patients have solid chances of getting appropriate dental care, no matter how demanding the treatment can be. Navii Dental Care, for example, is specialized in General and Cosmetic dentistry; therefore, we provide the finest dental services such as  teeth whitening, crowns, orthodontics,.. Especially, we are very confident in teeth whitening that we have served hundreds of not only Vietnamese customers, but also foreigners who are thousands of miles away! 
3. Where to get teeth whitening in Hanoi?
The Zoom WhiteSpeed treatment is clinically proven to whiten teeth up to 8 shades in 45 minutes, thanks to WhiteSpeed's advanced blue LED light-activated technology that emits at the optimal light spectrum with 100% greater light intensity than the closest competitive lamp. The powerful whitening process is enhanced by WhiteSpeed's exclusive whitening gel, creating brighter and whiter smiles for patients.
As a reputable dental clinic lying in the heart of Hanoi, Navii Dental Care owns the latest facilities and equipment in dentistry to serve clients with international dental care, including the Zoom WhiteSpeed. Recently, Navii Dental Care has recorded a growing number of expats from the US, UK, Asia, Europe, etc., who chose teeth whitening service because of its desirable, durable outcome and affordable price. There are 3 options for teeth whitening clients of Navii Dental Care: at-home whitening, in-office laser whitening with Zoom and whitening combination package. 
Navii Dental Care is fully confident in our resourcefulness, professionalism and constant improvement. Both of our clinics are located in the heart of Hanoi, where clients will be welcomed by enthusiastic staff and treated by a team of skilled professionals with the support of modern dental facilities and equipment such as X-ray machine, dental implant sterilizer, Zoom Whitespeed machine, and so on. 
Conclusion: 
It is not really sexy red velvet or dark matte lip colors that brighten your smile, but a 2-hour section of teeth whitening in Hanoi can brighten the smile of every man and woman for a period of at least 6 months. If you are expecting a beautifully white smile, contact Navii Dental Care to make it happen not tomorrow, but now!